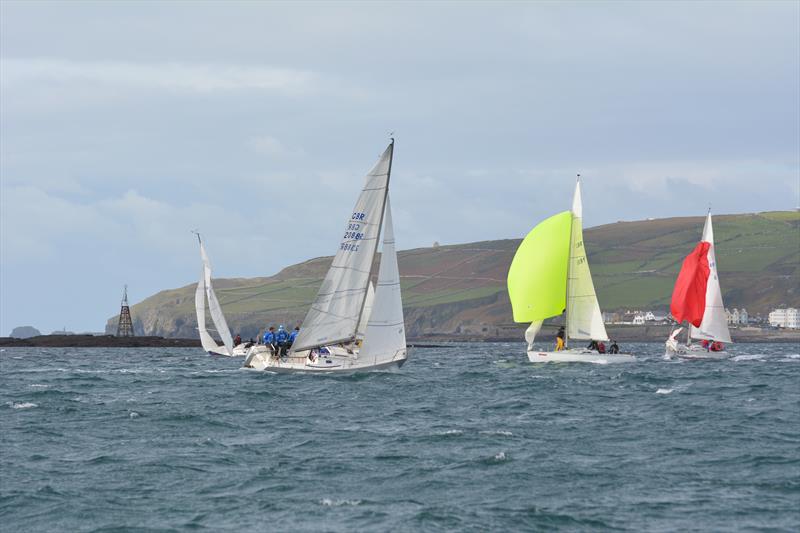 Near perfect conditions for the Isle of Man Yacht Club Beneteau First Class 8 championship sponsored by Prosper2 held in Port St. Mary. Just a flicker more of sunshine would have seen perfect conditions.
Race officer Mick Kneale was met with a WSW F4-5. The calm the previous day meant that the sea state was relatively flat. A 1400 start on the Saturday coincided with high tide which meant the current would be increasing throughout the day.
SailRacer GPS Tracking A six race series held over two days, saw six entrants from the eight boat fleet. Two boats remaining ashore due to crew complexities. This being the 7th time, since various members moved into the one design class of the First Class 8's, that we have run our championship, the format is fairly set and incorporates windward/leeward courses. The first beat was set at around a mile in distance and with the effect of beating towards the land, it would provide tricky conditions.
Day one had plenty of drama, Miss Herd ripped a spinnaker, Lazy Bones had a fairly significant broach and Albert Penguin used more room than was available to her on the start line. The racing was close with the boats positions changing regularly in all three races. And at the end of day 1. Albert Penguin held the lead on 3 points from Reprob8 (9) with G8crasher and Lazy Bones just one point adrift.
At the end of the day, self-inflicted handicaps began to be consumed. All the stories of near misses were discussed whilst watching back the excellent tracking provided by SailRacer.
Day two dawned somewhat earlier than most might have liked. To add to the mix, the breeze had increased to a solid F5 gusting 6 which saw some boats adopt a reefed sail plan. The potent concoction of a bit too much bar time and a fresh breeze probably had a lot to do with the carnage that then ensued. Fairly seasoned sailors made the leeward mark look like stage 1 sailing and save for the keels, there would have been swimming.
Another 3 races in testing conditions saw Lightning helmed by Russell Collister begin to find his keelboat legs and took two 2nd places. Albert Penguin helmed by Phil Hardisty continued where she had left off and after dialling in 2 more bullets decided to skip the lift out queue and headed for the shore. Lazy bones took the last win.
Thanks must go to all the volunteers involved, as ever and for the delightful spread we received both Saturday and Sunday, courtesy of the sponser, Prosper2.