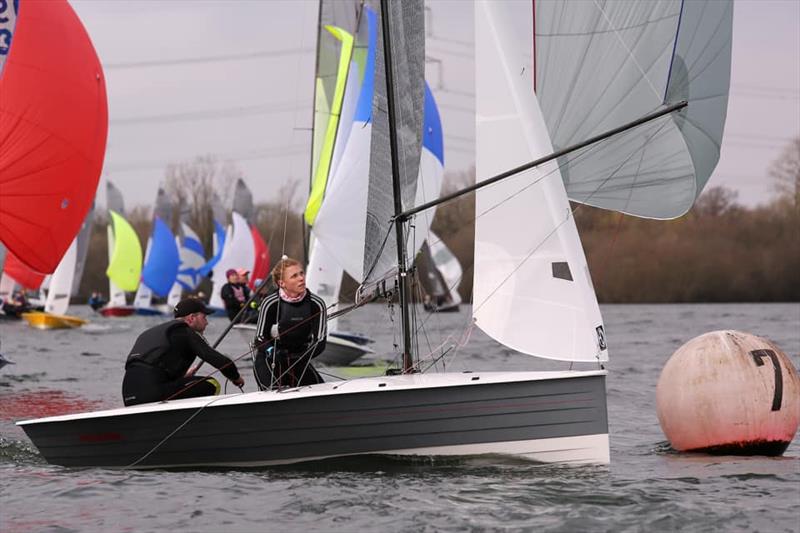 SailRacer was pleased to track the first of the 2020 Silver Tiller events at Burghfield Sailing Club, with 26 boats enjoying some great racing.
Race Report Ian Sharps
Another year starts for the Merlin Rocket Craftinsure Silver Tiller, first up was Burghfield Sailing Club.

The recent storms had thankfully stopped, and we were left with a nice 10 - 15 mph SSW. As always, the Merlin sailors were keen to get the season started with the majority turning up early to ensure all their work on their boats was up to standard.

All the boats were looking good (I might be biased though!). There are some nice little fettles across the fleet this winter. Of note Andy Davis/Pip Kilsby were sailing with a new mast and boom combo, which did not slow them down, and may be worrying for the rest of us.

The race officer James Anderson and team did an excellent job of setting a mix of windward-leeward, and "around the cans" courses. To be honest the racing was a blur to me, I remember beating, running and reaching. There was a lot of place changing with ever changing wind shifts and pressure.

Results The highlights from my point of view were as follows:

Andy / Pip sailed very well and consistently throughout the day to take the overall win.
Chris Gould / Caroline Croft seemed to get better and better, especially in the afternoon taking a win in the last race, for a 2nd overall.
Fran Gifford / Pete Nicholson sailed an excellent day showing a dangerous mix of speed and tactical nouse.
James Wells / Hannah Burt (3746) won the silver fleet. They seemed to really get to grips with Burghfield in the second half.
Joe Mclaughlin / Sean Roberts (3724) won the bronze fleet
SailRacer GPS Tracking In addition, we were sampling the delights of being tracked by SailRacer. This meant there is really is nowhere to hide. Lots of people reviewed the tracks saying, "why did I tack there?"

Over the four races the furthest distance sailed went to Jon Steward / Russel Hall (3770) at 16 Miles. The fastest 20 second average speed in the morning was Chris Martin / Oliver McClellan (3787) at 7.78 KTS and Richard Coulter / Nick Yan (3774) at 7.26 KTS in the afternoon.