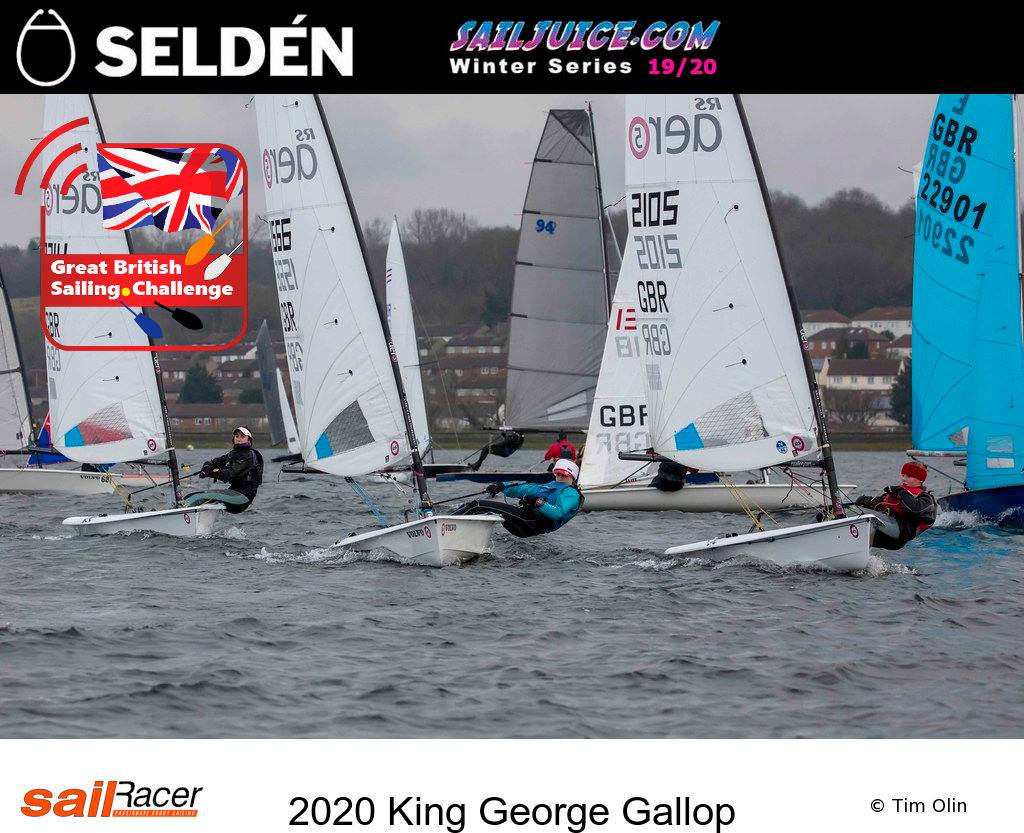 Olympic coach and Laser guru Jon Emmett hikes his Radial to victory at the King George Gallop in North London, while entry for next weekend's Tiger Trophy is already past the hundred mark...
A diverse range of conditions delivered some diverse results at the King George Gallop on Sunday 26 January, but it was Jon Emmett who raced his Laser Radial to victory at event No.6 of this season's Seldén Sailjuice Winter Series.
Sailing in conditions gusting from 10 to 20 knots around a 2.3 mile course on King George Reservoir in North London, the Weir Wood sailor won the first two races on handicap and was able to discard a 5th in the third and final race of a frenetic afternoon. The variable conditions produced good performances from different ends of the boatspeed range, with Datchet Water's Stuart Jones trapezing his Contender to second overall, beating the 420 of first female and youth finisher in the event, Megan Ferguson crewed by Ethan Davey. The Frensham Pond duo started poorly with a 24th, improved to a 4th in the next race and then finished off the day with a bullet in race three.
Results
While the podium finishers held a few points gap over the rest of the fleet, just three points separated places 4th to 9th, with Antonio Pascali's Topper beating defending Seldén Sailjuice Winter Series champions Simon Horsfield and Katie Burridge's 2000 by a point for fourth and fifth overall respectively.
GPS Tracking
The Gallop is the newest event in the Series, this year attracting a total entry of 73 boats out of a maximum 80 slots. The Series now moves from the confines of the relatively small King George Reservoir to the broader expanse of Rutland Water next weekend for the John Merricks Tiger Trophy. Already there are more than 100 entries including Dave Hall and Paul Constable whose Fireball has made an appearance at the event since it began more than 20 years ago. Favourites among the Fireballs will be reigning World Champions and former Tiger winners Ian Dobson and Richard Wagstaff. Last year's winners at Rutland Neil Marsden and Jonny McGovern will be competing in a 470.
There's a whole range of boats competing, from the 2.4m sit-in keelboat along with the K1 and K6s, some Challenger trimarans, a smattering of catamarans and a whole host of hiking and trapezing monohulls up to an SB20 sportsboat.
The Tiger Trophy is also a celebration of the memory of John Merricks, the winner of the first Tiger Trophy before he went on to win an Olympic silver at the 1996 Games with Ian Walker in a 470. The Tiger Dinner takes place again this year at RSC starting about 7pm on Saturday evening.
The cost is £10 if booked online beforehand on SailjuiceSeries.com, or you can order from the RSC office before Saturday (01780 720292). It is £12 if booked on Saturday. The menu will be John's favourite of Bangers & Mash with Peas and Onion Gravy. Sausages will be usual Lincolnshire or if preferred, vegetarian, vegan or gluten-free sausages - please specify your requirements
This is followed by apple crumble and custard and cream.
Either before or during the dinner, there will be a "Experts Q&A" session compered by Ian Walker. A number of top sailors at the event will be open to questions and share some of their experiences and advice on how to improve performance and results. So bring any questions you want to ask.
Online entry is open until 9am Thursday at: www.sailjuiceseries.com
THE EVENTS
The following events are in the Seldén SailJuice Winter Series 2019/20):
Fernhurst Books Draycote Dash, Draycote Water Sailing Club
Datchet Flyer, Datchet Water Sailing Club
Brass Monkey, Yorkshire Dales Sailing Club
Grafham Grand Prix, Grafham Water Sailing Club
Bloody Mary, Queen Mary Sailing Club
King George Gallop, King George Sailing Club
John Merricks Tiger Trophy, Rutland Sailing Club
Oxford Blue, Oxford Sailing Club
Prizegiving, RYA Dinghy Show, Alexandra Palace
1015am Saturday 29 February 2020
You can find out more about the Series here: www.SailJuiceSeries.com
Photo Credits: Tim Olin
Notes to editors:
Current and previous winners of the Seldén Sailjuice Winter Series
2018/19
Simon Horsfield & Katie Burridge (2000)
2017/18
Alistair Goodwin (Laser)
2016/17
Matt Mee & Emma Norris (RS200)
2015/16
Ian Dobson & Andy Tunnicliffe (GP14)
2014/15
Nick Craig & various crews (Merlin Rocket)
2013/14
Michael Sims (Solo)
2012/13
Tom Gillard & Simon Potts (Fireball)
2011/12
Peter Gray & Rachael Rhodes (Scorpion)
2010/11
Andy Peake (Musto Skiff)
2009/10
Olly Turner & Richard Whitworth (Merlin Rocket)
SailJuice.com is the 'how to sail and race faster' website, with hundreds of articles and exclusive interviews with National, World and Olympic Champions. Professional sailing journalist and editor of SailJuice.com, Andy Rice, came up with the concept of the SailJuice Winter Series (originally known as the SailJuice Global Warm-Up) as a way of increasing participation levels in dinghy racing during the off-season in the UK.
SailRacer manages event websites and processes online entry for major National, International, Youth and training events, providing online scoring, analysis and advanced sports presentation including GPS tracking and live video.
Seldén Mast Ltd is the world leader in dinghy spars. More races are won by Seldén Spars than any other brand. Dinghy spars are made using our unique XPS aluminium with CNC cut tapers, automated welding and heat treating resulting in the highest quality and most consistent dinghy spars available. Seldén produces about 400 carbon masts per year for boats including high performance dinghies and race yachts using state of the art Mandrel Filament Moulding Technology.