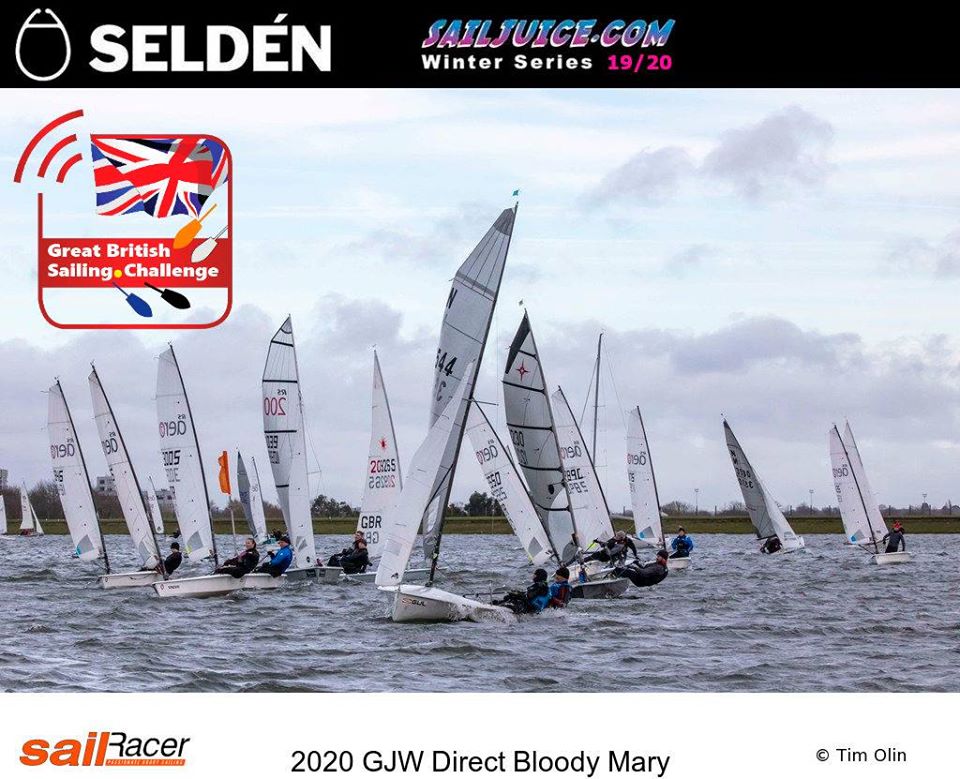 Dylan McPherson and Jack Lewis hold their nerve to plane their 420 to victory over almost 300 boats at a breezy 46th edition of the GJW Direct Bloody Mary...
Dylan McPherson and Jack Lewis followed in the footsteps of some great names to sail their 420 to victory at last weekend's GJW Direct Bloody Mary, the fifth leg of this season's Seldén Sailjuice Winter Series.
The breeze sometimes gusted up to 30 knots, with some wondering whether they would be able to handle the conditions. Unfortunately for Nick Craig, the multiple Endeavour Trophy winner, the jib halyard on his GP14 snapped as he was preparing to launch off the busy slipway. He busied himself with helping others launch, whilst cursing his bad luck at not being able to compete at an event which he is yet to win.
Hatty Cage hadn't sailed for four years, having previously won the RS Feva Worlds and been one of the top 29er sailors in the country. It was a very windy return to the sport for Hatty, crewing for her dad Rob in a Merlin Rocket that hadn't been out of the garage for a few seasons. While the Cages headed into the fray, a few of the 287 entrants took the wise decision not to launch, although Queen Mary Reservoir in south-west London was still a sea of colour and thrills and spills as sailors battled with the gusty field of play.
With the slowest boats starting at midday, Henry Koe from Southbank SC led the fleet of Toppers at the first mark. It was 20 racing marks later at the end of the second lap when the 420 team of McPherson and Lewis took over the lead. In the high winds this pair excelled and extended a commanding lead over the chasing pack. In the hunt were Simon Horsfield and Katie Burridge in their 2000 and close behind were the former Fireball World Champions DJ Edwards and Vyv Townend. However, the young 420 team held their nerve to hang on for a big victory, winning a race that has seen other great 420 sailors such as John Merricks and Ian Walker win the Bloody Mary some 30 years ago.
Behind the battle for line honours were some interclass contests such as a close match race between two top-class 505s, with Paul Brotherton/ Russ Clark eventually prevailing over reigning National and European Champions and former Bloody Mary winners Roger Gilbert/ Ben McGrane. While the strong breeze made the event a benefit for the faster trapeze boats, two 2000s and one Laser, sailed by Ben Flower, made it into the top 10 under the Great Lakes handicap system.
Here's a rundown of some of the other category and class winners from the day:
First Lady Helm: 420 (56383) Megan FARRER, Emsworth SC
First Queen Mary Helm: Laser, Chris Ellyatt, QMSC
Grand Master: Contender (2706) Stuart JONES, Datchet Water SC
First Junior Helm: 420 (54487) Dylan MCPHERSON and Jack LEWIS, RYA
First Sailability: Megan Pascoe, Frensham Ponds
Class prizes:
RS Aero 5 (2325) Ned Stattersfield, Wells-Next-The-Sea SC
RS Aero 7 (2439) Tim Hire, Lymington Town SC
RS 200 (1657) Geoff CARVETH and Emma HIVEY, Warsash SC
RS 400 (1488) Michael SIMS and Mark LUNN, Carsington SC
Topper (47902) Henry KOE, South Bank SC
Laser Radial (213563) Joe SCURRAH, Carsington SC
Laser (214415) Christopher ELLYATT, Queen Mary SC
420 (54487) Dylan MCPHERSON and Jack LEWIS, RYA
All in all, it took 75 volunteers to manage the smoothly-run operation at Queen Mary Sailing Club. Another Bloody Mary done for the year, and the 2020 season is underway. To look back through how the race was won and to clock your own progress around the race course, look at the GPS tracking:
selden.sailracer.org/ eventsites/live-screen- tracking.asp?eventid=215241& labels=S
Watch a video of the day here:
https://www.youtube.com/watch? time_continue=6&v=psLXC3abccE& feature=emb_logo
JUST 80 FOR THE KING GEORGE GALLOP
The King George Gallop first took place as a temporary replacement for the Bloody Mary two years when water levels were running unusually low at Queen Mary. The Gallop has now become established as an event in its own right, and is the sixth event in this season's Seldén Sailjuice Winter Series. Taking place on the north side of London on Sunday 26 January, the format is three back-to-back handicap races. Due to space restrictions at King George Reservoir, entry is limited to monohulls, with a maximum of 80 boats. Bearing in mind most events in the Series have booked to capacity this season, and with 30 already entered, the Gallop is likely to fill out too. So get your entry in ASAP at: www.sailjuiceseries.com
THE EVENTS
The following events are in the Seldén SailJuice Winter Series 2019/20):
Fernhurst Books Draycote Dash, Draycote Water Sailing Club
23 & 24 November 2019
Datchet Flyer, Datchet Water Sailing Club
7 & 8 December 2019
Brass Monkey, Yorkshire Dales Sailing Club
27 December 2019
Grafham Grand Prix, Grafham Water Sailing Club
29 December 2019
Bloody Mary, Queen Mary Sailing Club
11 January 2020
King George Gallop, King George Sailing Club
26 January 2020
John Merricks Tiger Trophy, Rutland Sailing Club
1 & 2 February 2020

Oxford Blue, Oxford Sailing Club
15 February 2020
Prizegiving, RYA Dinghy Show, Alexandra Palace
1015am Saturday 29 February 2020


You can find out more about the Series here: www.SailJuiceSeries.com
Photo Credits: Tim Olin
Notes to editors:
Current and previous winners of the Seldén Sailjuice Winter Series
2018/19 Simon Horsfield & Katie Burridge (2000)
2017/18 Alistair Goodwin (Laser)
2016/17 Matt Mee & Emma Norris (RS200)
2015/16 Ian Dobson & Andy Tunnicliffe (GP14)
2014/15 Nick Craig & various crews (Merlin Rocket)
2013/14 Michael Sims (Solo)
2012/13 Tom Gillard & Simon Potts (Fireball)
2011/12 Peter Gray & Rachael Rhodes (Scorpion)
2010/11 Andy Peake (Musto Skiff)
2009/10 Olly Turner & Richard Whitworth (Merlin Rocket)
SailJuice.com is the 'how to sail and race faster' website, with hundreds of articles and exclusive interviews with National, World and Olympic Champions. Professional sailing journalist and editor of SailJuice.com, Andy Rice, came up with the concept of the SailJuice Winter Series (originally known as the SailJuice Global Warm-Up) as a way of increasing participation levels in dinghy racing during the off-season in the UK.
SailRacer manages event websites and processes online entry for major National, International, Youth and training events, providing online scoring, analysis and advanced sports presentation including GPS tracking and live video.
Seldén Mast Ltd is the world leader in dinghy spars. More races are won by Seldén Spars than any other brand. Dinghy spars are made using our unique XPS aluminium with CNC cut tapers, automated welding and heat treating resulting in the highest quality and most consistent dinghy spars available. Seldén produces about 400 carbon masts per year for boats including high performance dinghies and race yachts using state of the art Mandrel Filament Moulding Technology.